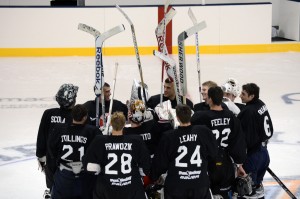 Stop It Goaltending offers year round training at our development centers as well as a full lineup of summer programs. Goalies that train with Stop It Goaltending enjoy success because of our ability to be on the cutting edge of goaltending techniques.
We have developed a system in which to teach goaltending that is second to none and we do it in an environment where the goalies are challenged yet have fun at the same time. Since 1999, Stop it Goaltending has experienced tremendous success in developing goaltenders of all levels and abilities.
Stop It Goaltending has been instrumental in the development of twenty-five NHL draft picks and over one hundred goalies that have gone on to college and pro hockey. We offer Summer Programs, Year Round Lessons, Coaching and The Bridge. Stop It Goaltending also produces a monthly newsletter featuring current goalie specific news, articles and videos as well as posting primers and drills daily on social media.
The Stop It Goaltending staff is comprised of professional and college goaltending coaches. In the summer, our Directors are assisted by some of the top professional and college coaches in the nation, as well as SIG students currently playing pro or college hockey. The following is a listing of our goalie coaches.
Brian Daccord
President | Founder
Brian Daccord is the president and founder of Stop It Goaltending as well as a Goaltending Consultant for the Toronto Maple Leafs. He is a former Goaltending Coach of the Boston Bruins and served on the staffs of Pat Burns, Mike Keenan, and Robbie Ftorek. Brian is a member of the Massachusetts Goaltending Advisory Group and was recently recognized by the New England Hockey Journal as one of the top 100 most influential people in New England Hockey. His book "Hockey Goaltending" has sold over 40,000 copies worldwide. He is also the founder of the Bridge Program and the Stop It Goaltending GCG Prospects Event.
Brian was featured in The Hockey News as one of the NHL's "Top Goalie Coaches with Crease Clout" and current clients include top NHL, AHL, ECHL, College and Junior goalies. Brian is also a former coach and player at Merrimack College and played seven seasons of Pro hockey in Switzerland. He has enjoyed success coaching at every level of youth hockey as well as US Prep School, Junior, College, and Pro. He is a Masters Level Coach with USAHockey and holds a Masters Degree in Sports Science.
Andrew Raycroft
Former NHL
Goaltender
Brian Mahoney-Wilson
Detroit Red Wings (NHL/AHL)
Bruce Irving
Valley Junior Warriors (EHL)
Mark Hanson
Former Harvard W (Hockey East)
Sean Walsh
University of Southern New Hampshire (NE10)
Tyler Holske
South Shore Kings (NCDC)
Tyler Stillings
Cushing Academy
(Prep)
Zack Perkins
Anna Maria College (NCAA III)
Alfie Michaud
Maine University (Hockey East)
Andrew Matheson
Arizona State University (Independent)
Andrew Mercer
Clarkson University (ECAC)
Bob Bellemore
USA
Hockey
Bob
Essensa
Boston Bruins
(NHL)
Brian Kristiansen
Institute of Goaltending – Scandinavia
Chris
Hall
Merrimack College W (Hockey East)
Chris
Terreri
NY Islanders
(NHL/AHL)
Dan
Dubois
Aamped
Goaltending
Dan
Jewell
RPI
(ECAC)
Jamie McGuire
Hockey
Canada
Jared Demichiel
UMass Amherst (Hockey East)
Justin Goldman
The
Goalie Guild
Larry
Sadler
HC
Gherdeina
Magnus Olsson
Malmo Redhawks (Sweden)
Mike Doneghey
Chicago Blackhawks (NHL Scout)
Mike Dunham
Boston Bruins (NHL/AHL)
Mitch
Harris
The
Goalie Doctor
Peter
Aubrey
Chicago Blackhawks (NHL/AHL)
Phil
Osaer
USA
Hockey
Rick Wamsley
OHL Goaltending Consultant
Rob Haberbusch
Hamilton College (NESCAC)
Rob
Heholt
York University
(CIS)
Ron Petronella
Elite Goalie
Academy
Ryan
Hull
Army
(Atlantic)
Scott Clemmensen
New Jersey Devils (NHL/AHL)
Steve Androlewicz
Racine Goalie
Company
Tara Connolly
Wesleyan
USA Hockey
Taylor Nelson
Canisius College
(ECAC)
Maria
Mountain
GCG Head Strength & Conditioning Coach
Kim
Johnson
GCG Head Yoga
Instructor
Dan
Newton
Strength & Conditioning
Coach
Adam
Naylor
Performance
Coach
Steve
Brown
Mental Skills
Coach
Stephan "Wack" Serwacki
Equipment
Director
SIG DEVELOPMENT CENTER LOCATIONS
Foxboro Sports Center
Foxboro, MA
The Stop It Goaltending Development Center in Foxboro, MA  is located on the mezzanine level of the Foxboro Sports Center.
New England Sports Center
Marlboro, MA
Hat Trick Center
Middleton, MA
When entering the industrial park, stay right. We are located in the back building.
The Bog Ice Skating Rink
Kingston, MA
Mass Conn United Training Center
Springfield, MA