One of the key development tools for successful goaltenders is video analysis. SIG uses the state of the art technology of Dartfish software to analyze goalies that recognize how using technology can assist tremendously in skill development. Stop It Goaltending offers three video services. Goalie IQ Lessons are provided to goalies in the spring who want to learn more about the strategic side of the position by watching a video. Goalies can have a current game analyzed by SIG video coordinator Brian Robinson or a total technical analysis which consists of 10 specific drills filmed at one of our development centers.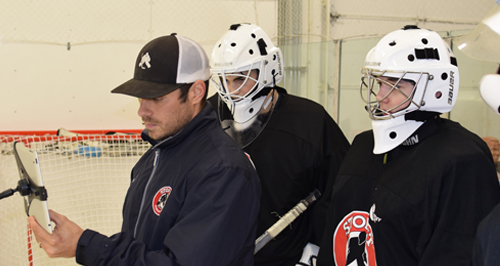 In the spring, SIG offers goalies the opportunity to learn more about the strategy of goaltending by watching video alongside a Stop It Goaltending Director. These video lessons allow for interaction between the goalies and coaches through watching clips and thoroughly analyzing them. Address, depth, reads, projection, probabilities, and variables are all taken into account in finding the right response to every situation. The spring is a great time to partake in this training and groups consist of no more than 4 goalies and lasts for 50 minutes. The cost is $35 per lesson and $280 for the session. One on One Goalie IQ Lessons is also available privately at $95 per lesson.
The SIG Game Video Analysis service features SIG video coordinator Brian Robinson who will watch and tag your game video. These clips will be put into a timeline and each clip will have a corresponding comment. A summary analysis including an overview of performance, technical analysis and points of emphasis will be provided at the beginning of the timeline. The process is simple and the cost is only $125 per analysis.
The SIG Total Technical Analysis allows goaltenders to receive a video analysis of their mechanics recorded at one of the Stop It Goaltending Development Centers. In a 50-minute on-ice session, goalies will complete drills from each week of the eight-week Stop It Goaltending private lesson curriculum. Each drill and skill will be analyzed and evaluated.