Youth Hockey Organizations:
Stop It Goaltending currently trains over 40 Massachusetts Youth Hockey Organizations. Organizations book regular weekly times at one of our SIG Development Centers for eight, sixteen, or twenty-four weeks during the season. The cost per hour is $256 which consists of the ice cost, director, and two shooters for up to four goalies. Organizations typically send the same group of goalies each week or every other week. For more information please contact Pat Feeley at pat@stopitgoaltending.com or call (800) 801-1968.
High School/Prep School/Junior/College Programs:
High Schools, Prep Schools, Junior teams and Colleges are welcome to schedule a Stop It Goaltending Director to come to their team practices and work specifically with the goalies. SIG Directors are professional goalie coaches who work with goalies of all levels and are knowledgeable with the SIG curriculum, progressive techniques, and teaching methods. Although SIG cannot guarantee to have a director available for your specific date and time, we will do our best to supply you with a coach. The cost of booking a Stop It Goaltending Director is $125 per hour plus mileage outside a 20-mile radius. In order to book a SIG Director for practices, please contact Pat Feeley at pat@stopitgoaltending.com or call Pat at (781) 376-9000 or fill out the form below.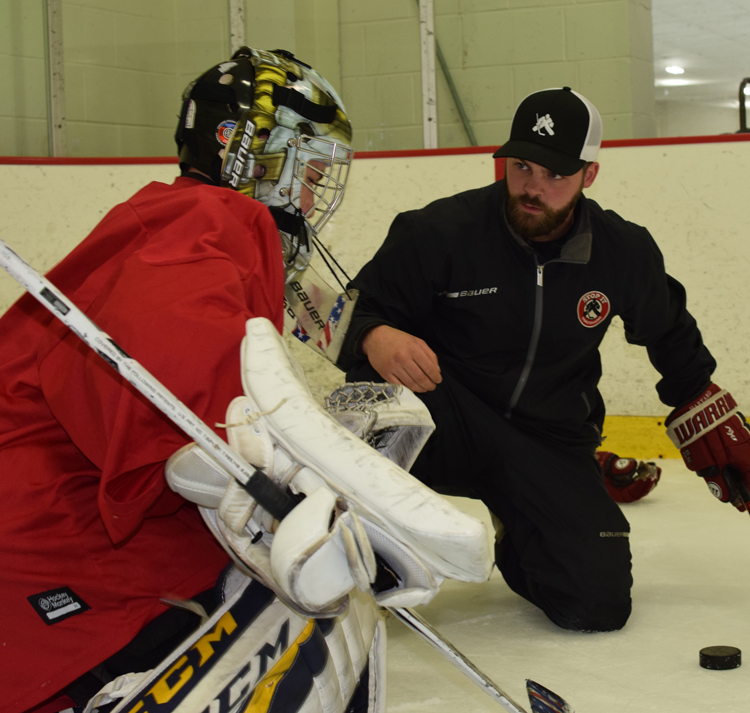 One of the key development tools for successful goaltenders is video analysis. SIG uses the state of the art technology of Dartfish software to analyze goalies that recognize how using technology can assist tremendously in skill development. Stop It Goaltending offers three video services. Goalie IQ Lessons are provided to goalies in the spring who want to learn more about the strategic side of the position by watching a video. Goalies can have a current game analyzed by SIG video coordinator Brian Robinson or a total technical analysis which consists of 10 specific drills filmed at one of our development centers.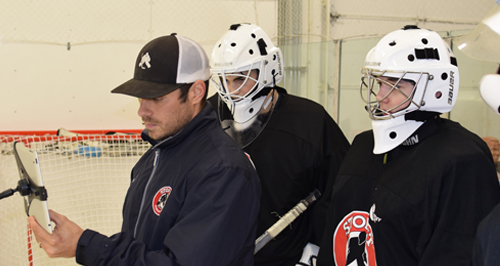 SIG is now offering goalies the opportunity to learn more about the strategy of goaltending by watching videos 1 on 1 via Zoom with a Stop It Goaltending Director. These video sessions allow for interaction between goalies and coaches through watching clips and thoroughly analyzing them. Address, depth, reads, projection, probabilities, and variables are all taken into account in finding the right response to every situation. Now is the time to hop on a Zoom call with the Director of your choice and break down some video. Contact your SIG Coach directly to set up a date and time. The cost is $30 for 30 minutes ($60 for 60 minutes) of a 1 on 1 video breakdown with an SIG Director.
Available Directors
*Click the Directors email address to contact them*
Brian Robinson  brianr@stopitgoaltending.com
Cam Doomany  cam@stopitgoaltending.com
Clay Adams – clay@stopitgoaltending.com
Jeff Walker  jeff@stopitgoaltending.com
The SIG Game Video Analysis service features SIG video coordinator Brian Robinson who will watch and tag your game video. These clips will be put into a timeline and each clip will have a corresponding comment. A summary analysis including an overview of performance, technical analysis and points of emphasis will be provided at the beginning of the timeline. The process is simple and the cost is only $99 per analysis OR 4 analyses for $299.
The SIG Total Technical Analysis allows goaltenders to receive a video analysis of their mechanics recorded at one of the Stop It Goaltending Development Centers. In a 50-minute on-ice session, goalies will complete drills from each week of the eight-week Stop It Goaltending private lesson curriculum. Each drill and skill will be analyzed and evaluated.